Best Price Guaranteed
We compare prices across 30 sites to get you the best deals.
Overview
Spend a day leisurely cycling though the scenic countryside of Vietnam, far from the traffic the motor scooters, and the noises the city.
You will cross the islands on the Song Thu river delta using local transportation, including ferries and floating bridges.
You will follow very easy, small, flat paths with no automobile circulation
get ready & have fun.
Description
This tour will take you on a visit to artisans making bricks according to age-old. You will discover how wooden river boats are made and learn the secret of weaving the colorful straw ?Hoi An? sleeping mats Try the renowned Vietnamese basket boats. You will spend the day with first-hand contact with one of the rural inhabitant of the region, far from the usual tourist circuits. At lunchtime you will be invited into the home of a local Vietnamese family for a traditional Vietnamese meal, and learn their customs and traditions. After you have relaxed for a while under the shade of a mango tree, you will Begin your return towards Hoi An, which will take about an hour.

This tour is about 9 km (5.5 miles) with several stops.

The Price includes:
- A local meal at the home of a local Vietnamese family (choice of fish, meat or vegetarian meal)
- Choose between mountain bike or hybrid bike
- Bilingual French / English guides.
- A 45 minutes charming boat ride on the Song Thu river delta.
- A guide assistant if more than 3 participants in your group.

* Insurance not included
* Transfer to meeting point not included
Amenities
Meal included
Water included
Restroom available
Special clothing
Special equipment
Senior friendly
Kids friendly
Certified
Hoi An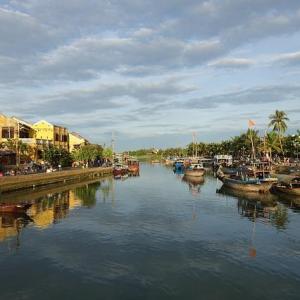 This ancient region of great historical significance has delivered consistently over the years as a city, which despite having a laid back culture, still meets the requirements of modern day tourism. Its amazing landscapes, wonderful coastal retreats, highly impressive restaurants and wonderful shopping avenues are a testimony to that. The city also packs a fair amount of promise with an array of various adventure related activities and hobby centres. If you're in Vietnam, then Hoi An is an absolute must-visit. Noi Bai International Airport is well connected internationally with other major cities across Southeast Asia. Budget and mid-range accommodation are in plenty.
UNESCO World Heritage Site
Well known for its ancient temples and heritage structures
Major hub for village tourism
Well known for watersports
Museums and art galleries
Lovely Restaurants
Paradise for shutterbugs and history buffs
Great spot for adventure tours and activities