Best Price Guaranteed
We compare prices across 30 sites to get you the best deals.
Overview
Drive through the countryside and back roads on your way to the amazing My Son, a UNESCO World Heritage Site
Cycle through Hoi An, including visits to the lantern town, home to the Japanese Covered Bridge and historical museum
Ride out to the beach for a refreshing and relaxing swim to end your day
Description
My Son is a cluster of abandoned and partially ruined Hindu temples constructed between the 4th and the 14th century AD by the kings of Champa. The temples are dedicated to the worship of the god Shiva, the most important of which is "Bhadresvara."
Brief itinerary:
Greetings and a short transfer out of the town and ride to My Son world heritage.
This fantastic ride out to the temples goes through the countryside on back roads. This offers a rare insight into how the locals live now, as well as taking a step back in time by visiting the ancient temples.
After visiting the temples of My Son, we ride back to Hoi An where considered as one of the most impressive towns in central Vietnam. Cycle to visit the lantern town with Japanese Covered Bridge, Chinese old house, Historical museum; and keep riding to the beach for swimming.
Back to your hotel. End of services.
Amenities
Meal included
Water included
Restroom available
Senior friendly
Kids friendly
Certified
Hoi An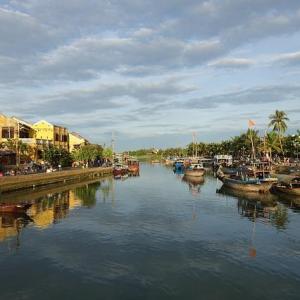 This ancient region of great historical significance has delivered consistently over the years as a city, which despite having a laid back culture, still meets the requirements of modern day tourism. Its amazing landscapes, wonderful coastal retreats, highly impressive restaurants and wonderful shopping avenues are a testimony to that. The city also packs a fair amount of promise with an array of various adventure related activities and hobby centres. If you're in Vietnam, then Hoi An is an absolute must-visit. Noi Bai International Airport is well connected internationally with other major cities across Southeast Asia. Budget and mid-range accommodation are in plenty.
UNESCO World Heritage Site
Well known for its ancient temples and heritage structures
Major hub for village tourism
Well known for watersports
Museums and art galleries
Lovely Restaurants
Paradise for shutterbugs and history buffs
Great spot for adventure tours and activities