Best Price Guaranteed
We compare prices across 30 sites to get you the best deals.
Bicycling
Meet The Locals
Overview
Discover Real Vietnam through a beautiful 2 days cycling tour and 1 night in Vietnamese local home-stay.
Meet & Interact the locals, Vietnamese family, fishermen, farmers.
Taste amazing Vietnamese dishes throughout the trip.
Description
"On the first day you will visit local artisans and learn about traditional crafts made locally.You will spend the evening with a local family and participate in their family activities.
The second day will be dedicated to cycling, guiding you across a variety of spectacular scenery, alternating between lush green rice fields, and dry desert like areas. At the end of the morning, you will arrive at the edge of a deserted beach at a small fishing village where you will have lunch. The afternoon will continue with a bicycle ride on the beach and a cruise of about an hour on the Thu Bon river to return to Hoi An. "

Flat roads without traffic.
DEPARTURE: 1:30 pm
RETURN: The day after around 5:00 pm

Tour Includes :
- A local meal with locals in a Vietnamese traditional house
- Bilingual guide, French guide available
- A night in charming local house
- Breakfast Vietnamese style.
- Lunch on a secret beach
- 45 minutes boat tour on the Song Thu river delta.
- Choose between Mountain bike or Hybrid Bike -
- Distance 29Km - 9km on the 1st day, 20km on the 2nd day

*Insurance not included
**Transfer to meeting point not included
*** Minimum of 2 people requested for this tour, contact us at support@eoasia.com if you are travelling alone
Amenities
Meal included
Water included
Restroom available
Special clothing
Special equipment
Senior friendly
Kids friendly
Certified
Hoi An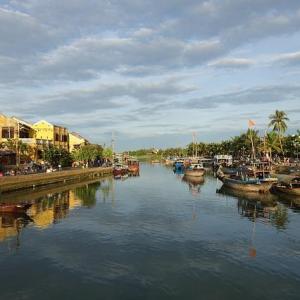 This ancient region of great historical significance has delivered consistently over the years as a city, which despite having a laid back culture, still meets the requirements of modern day tourism. Its amazing landscapes, wonderful coastal retreats, highly impressive restaurants and wonderful shopping avenues are a testimony to that. The city also packs a fair amount of promise with an array of various adventure related activities and hobby centres. If you're in Vietnam, then Hoi An is an absolute must-visit. Noi Bai International Airport is well connected internationally with other major cities across Southeast Asia. Budget and mid-range accommodation are in plenty.
UNESCO World Heritage Site
Well known for its ancient temples and heritage structures
Major hub for village tourism
Well known for watersports
Museums and art galleries
Lovely Restaurants
Paradise for shutterbugs and history buffs
Great spot for adventure tours and activities