Best Price Guaranteed
We compare prices across 30 sites to get you the best deals.
Overview
Listen Catru music in an ancient house, built over 110 years ago.
Discover about Catru history & its unusual instruments.
One hour belong to you: enjoy the music, you feel truly in Vietnam.
Description
Life unfolds as usual on this busy Old Quarter street yet once inside this beautifully restored ancient home, the melodies and surroundings move you at the pace of 15th Century Northern Court entertainment. Performances, part of UNESCO cultural heritage, are at 8pm on Tuesdays, Thursdays and Saturdays.

Description:
Ca trù is a complex form of sung poetry found in the north of Viet Nam using lyrics written in traditional Vietnamese poetic forms. Ca trù groups comprise three performers: a female singer who uses breathing techniques and vibrato to create unique ornamented sounds, while playing the clappers or striking a wooden box, and two instrumentalists who produce the deep tone of a three-stringed lute and the strong sounds of a praise drum. Some Ca trù performances also include dance. The varied forms of Ca trù fulfill different social purposes, including worship singing, singing for entertainment, singing in royal palaces and competitive singing. Ca trù has fifty-six different musical forms or melodies, each of which is called th? cách. Folk artists transmit the music and poems that comprise Ca trù pieces by oral and technical transmission, formerly, within their family line, but now to any who wish to learn. Ongoing wars and insufficient awareness caused Ca trù to fall into disuse during the twentieth century. Although the artists have made great efforts to transmit the old repertoire to younger generations, Ca trù is still under threat of being lost due to the diminishing number and age of practitioners.

To know more:
http://www.youtube.com/watch?v=XrzGeo8GQX8&feature=player_embedded#!
Amenities
Restroom available
Special equipment
Senior friendly
Kids friendly
Ha Long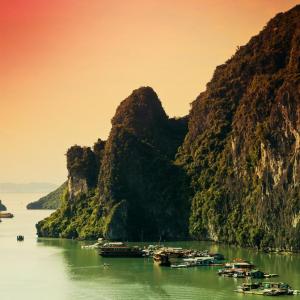 Ha Long Bay, translating to "dragons descending into the sea", is a collection of over 1600 islands and islets. This seascape is famous for its emerald waters and its towering limestone mountains. The breath-taking views of the limestone mountains complementing the waters make the place a major tourist attraction. This "World of water wonders" is listed as a UNESCO World Heritage Site. One can get in comfortably from different place around the island. Getting around the archipelago, however, is only by boat.
Considered one of the wonders of the world
Variety of cruises
Emeraude Cruise-memorable day cruise
Seafood
UNESCO World Heritage Site
Breathtaking sights
Jackpot for water-sport lovers