Best Price Guaranteed
We compare prices across 30 sites to get you the best deals.
Overview
Climb in the predominantly vertical wall of compact limestone. There is 12 routes, from 6a to 7b+ (most of them are 25m high) and 2 multi-pitches (3 pitches, 60m high)
You?re a beginner or advanced climbers? In both case, you'll have a lot of challenge and fun!
Feel connect to the nature and conquer yourself.
Description
Gear: all fixed protection uses marine grade stainless steel, the majority of bolts are of the glue?in resin type. Abseil stations and lowers offs consist of a minimum of 2 bolts equipped with rappel rings. Bolts are reasonably closely spaced to assist with working routes and to safeguard against dangerous falls near the ground. A single 60m rope is sufficient but climbers are advised to use a 65m or ideally a 70m rope. The majority of routes are 30m long and will require up to 18 quickdraws excluding additional draws for setting up the anchor.

Features: top-rope, safety notes, gravity tips, lead climbing introduction (with prerequisites)
Includes: duration of 12 hours, transportation, pique-nique, access pass, climbing gear, coaching
Excludes: insurance, drinks, others not listed above
Amenities
Meal included
Water included
Restroom available
Special clothing
Special equipment
Other fees
Senior friendly
Kids friendly
Certified
Ha Long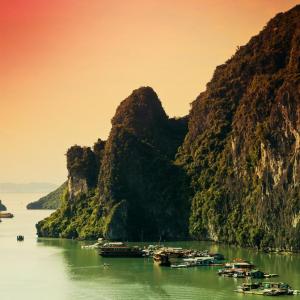 Ha Long Bay, translating to "dragons descending into the sea", is a collection of over 1600 islands and islets. This seascape is famous for its emerald waters and its towering limestone mountains. The breath-taking views of the limestone mountains complementing the waters make the place a major tourist attraction. This "World of water wonders" is listed as a UNESCO World Heritage Site. One can get in comfortably from different place around the island. Getting around the archipelago, however, is only by boat.
Considered one of the wonders of the world
Variety of cruises
Emeraude Cruise-memorable day cruise
Seafood
UNESCO World Heritage Site
Breathtaking sights
Jackpot for water-sport lovers