Best Price Guaranteed
We compare prices across 30 sites to get you the best deals.
Overview
Cruise, kayak and rock climb in the amazing Lan Ha Bay. Appropriate for all experienced levels.
Cruising and Kayaking through Lan Ha Bay with western guides. Explore hidden lagoons and cool archways. Rock climb on a beach with amazing views and friendly, knowledgeable guides.
You will have the unique experience
swimming in the emerald bay and climbing on limestone karst.
Description
Cast off into Lan Ha Bay, the southern portion of Ha Long Bay that is lightly traveled and astounding in natural beauty. After cruising through a maze of karst towers, we will collect your kayaks from one of the floating houses and anchor in a tranquil cluster of islands. You can kayak through the bay into hidden lagoons, head for one of the deserted beaches or just relax on the boat with a good book and drink. Our no-forced-itinerary policy allows you to choose your own adventure.
Take it as it comes and our guides will be there to help make it happen!
Whatever you choose to do, the scenery will no doubt leave you hungry for more?or at least hungry for food! We'll set you up a full spread of lunch and the group can chat about their amazing experiences so far.
After lunch you?ll land on the secluded and uninhabited Moody Beach with sea water caressing two shorelines beneath a massive limestone cliff. After a brief introduction, our guides will outfit you with safe and comfortable UIAA standard climbing harnesses and rock climbing gear. With the coaching of our experienced guides, climb as high as you?d like overlooking the emerald waters of Lan Ha Bay.Your cruise home will be majestically back-dropped by the setting sun.

Primary Activities:Rock Climbing, Kayaking, and Cruising the Bay
Other Activities: Swimming, Frisbee, Sunbathing, Football, Rockin' the Boat
Designed For:Anyone (Ages: 6-150+) no experience needed!

Amenities
Meal included
Restroom available
Special equipment
Senior friendly
Kids friendly
Insurance included
Certified
Ha Long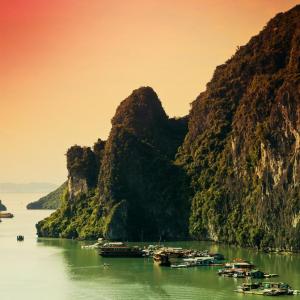 Ha Long Bay, translating to "dragons descending into the sea", is a collection of over 1600 islands and islets. This seascape is famous for its emerald waters and its towering limestone mountains. The breath-taking views of the limestone mountains complementing the waters make the place a major tourist attraction. This "World of water wonders" is listed as a UNESCO World Heritage Site. One can get in comfortably from different place around the island. Getting around the archipelago, however, is only by boat.
Considered one of the wonders of the world
Variety of cruises
Emeraude Cruise-memorable day cruise
Seafood
UNESCO World Heritage Site
Breathtaking sights
Jackpot for water-sport lovers