Best Price Guaranteed
We compare prices across 30 sites to get you the best deals.
Overview
Admire the superb panorama of Mai Chau surrounded by a green valley and stilt houses.
The homestay offers you to deep in and experience the daily life of the north-western region.
Get a chance to learn about the culture of north-western ethnic minorities, including the Thai ethnic group.
Description
Mai Chau is one of the most popular places for off-road cycling in the northern Vietnam. This trip to the Northwest highland of Mai Chau offers a balance of cultural and physical activity set amongst some northern Vietnam?s stunning natural landscape.
Begin the tour with a car transfer from Hanoi up to Hoa Binh province where you upload your bikes and start cycling up and downhill on paved roads to Mai Chau. Enjoy cycling on single dirt trail, back roads, single tracks around Mai Chau as you bike through local Thai hamlets and rice fields. It?s a fascinating drive past many minority villages as we climb onto a higher plateau. We pass coffee and tea plantations before arriving in the late afternoon to Mai Chau. Overnight in Mai Chau.
The second day we will ride to visit the morning foggy scenery of the beautiful west region of Viet Nam, and some trekking along the trails. Have picnic lunch. Checking out and leave for Ha Noi.
End of tour
Amenities
Meal included
Water included
Restroom available
Senior friendly
Kids friendly
Certified
Ha Long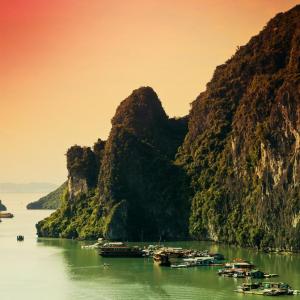 Ha Long Bay, translating to "dragons descending into the sea", is a collection of over 1600 islands and islets. This seascape is famous for its emerald waters and its towering limestone mountains. The breath-taking views of the limestone mountains complementing the waters make the place a major tourist attraction. This "World of water wonders" is listed as a UNESCO World Heritage Site. One can get in comfortably from different place around the island. Getting around the archipelago, however, is only by boat.
Considered one of the wonders of the world
Variety of cruises
Emeraude Cruise-memorable day cruise
Seafood
UNESCO World Heritage Site
Breathtaking sights
Jackpot for water-sport lovers