Best Price Guaranteed
We compare prices across 30 sites to get you the best deals.
Overview
Rich decor of the Emeraude includes colonial style brass fans and hardwood floors
Experience natural beauty and serenity of Vietnam's Halong Bay
Indulge in Vietnamese and European buffet meals on board
Description
Every day, the Emeraude journeys through one of the world's most dazzling natural wonders and into the sepia realm of a dream. Named for a cruising vessel that plied these waters between 1906 and 1937, the Emeraude aspires to the magnificence of the bay itself. Its air-conditioned cabins, en suite bathrooms, award-winning cuisine and spacious deck space set the stage for the voyage of a lifetime.
Amenities
Meal included
Restroom available
Other fees
Senior friendly
Kids friendly
Insurance included
Certified
Ha Long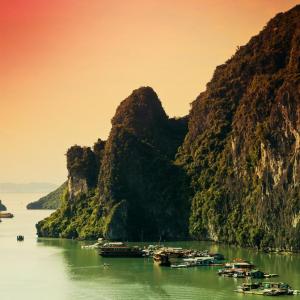 Ha Long Bay, translating to "dragons descending into the sea", is a collection of over 1600 islands and islets. This seascape is famous for its emerald waters and its towering limestone mountains. The breath-taking views of the limestone mountains complementing the waters make the place a major tourist attraction. This "World of water wonders" is listed as a UNESCO World Heritage Site. One can get in comfortably from different place around the island. Getting around the archipelago, however, is only by boat.
Considered one of the wonders of the world
Variety of cruises
Emeraude Cruise-memorable day cruise
Seafood
UNESCO World Heritage Site
Breathtaking sights
Jackpot for water-sport lovers