Best Price Guaranteed
We compare prices across 30 sites to get you the best deals.
Overview
Play golf at Dailai Star Golf Country club & challenge 18 holes.
Hit the ball amongst the beautiful Ngoc Thanh Mountains.
Get ready and have fun!
Description
Dalai Star Golf and Country Club is a picturesque course located 40 minutes from the centre of Hanoi set amongst the beautiful Ngoc Thanh Mountains. From the first hole, situated by Dalai Lake you venture into the mountains and enjoy the uniqueness of each individual hole. This course is one of the most picturesque in Northern Vietnam and can be enjoyed by all levels of golfers. Driving into the golf course from Hanoi you experience real life Vietnam by passing through some villages of the North.

Please note:
Price include: Weekday Green Fee 18 Holes.
Price do not include: caddie fee & rental fees.
Amenities
Restroom available
Special clothing
Special equipment
Other fees
Senior friendly
Kids friendly
Insurance included
Certified
Ha Long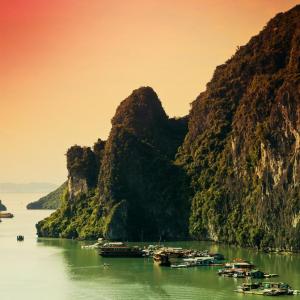 Ha Long Bay, translating to "dragons descending into the sea", is a collection of over 1600 islands and islets. This seascape is famous for its emerald waters and its towering limestone mountains. The breath-taking views of the limestone mountains complementing the waters make the place a major tourist attraction. This "World of water wonders" is listed as a UNESCO World Heritage Site. One can get in comfortably from different place around the island. Getting around the archipelago, however, is only by boat.
Considered one of the wonders of the world
Variety of cruises
Emeraude Cruise-memorable day cruise
Seafood
UNESCO World Heritage Site
Breathtaking sights
Jackpot for water-sport lovers