Best Price Guaranteed
We compare prices across 30 sites to get you the best deals.
Overview
Hiking tour to Mount Abang.
Mount Abang is the second highest mountain in Bali that draws tourists in with both beauty and promise of Bali adventure Tours.
Fantastic?s panorama are served by the peak of Mount Abang as the guide explains you about the history of the Balinese culture.
Description
Mount Abang is located at Bangli Regency approximately 60 kilometers from the main city of Denpasar. It?s stand 2152 meters above the sea level as the second highest mountain in Bali, it can be summitted by physically fit hikers about 2,5 hours.
Mount abang is known as very virgin mountain by the locals, the trek is the pilgrim to top of the high spirited atmosphere. Along the trek you?ll pass the green tropical forest that existed hundred of years. The trek become more energize as you pray at the temple during the trek to the peak.
Fantastic?s panorama are served by the peak of Mount Abang as the guide explains you about the history of the Balinese culture.
On the way home from the trek we will stop off at a Traditional Bali Coffee Processing or Bali Agrotourism, place to see various Tropical plantations and see how to make Balinese coffee in very traditional process, and we also get to sample of them as well as local herbal teas, coffees and the unusually processed Coffee Luwak, the most expensive coffee in the world.

Mount Abang Hiking Itinerary :

Pick up time : depend on where you stay in Bali, and transport directly to the starting point in Suter village.
03.25 : Arrival at starting point, introduction and safety procedure briefing by our experience trekking guide.
03.30 : Begin our trek to Mount Abang Bali.
06.15 : Arrival at the peak, were we witness the spectacular view.
08.00 : Begin our descent to Suter village, the finishing point of our trek.
09.00 : Arrival at Suter village and board car.
09.30 am : Stop off at a Balinese Coffee plantation
12.00 : Return arrival at your hotel.


Pick up time :
Ubud : 02:20 am Sanur : 02:10 am
Kuta : 01:50 am Nusa Dua : 01:40 am

Facilities Include for the trek to Mt Batur :

Pick up and return to your hotel by Air Conditioned Car
Experienced local guides English speaking
Entrance Fee to Kintamani Area
Parking fee
Breakfast
Drinking water
Flashlights

What should you bring to trek Mt. Batur :

Trekking shoes
Jacket
Long pants

Note :

Bring only what you need, the rest leave them in your hotel.
Some cash for tipping the guide and driver is recommended.

You will be able to confirm your meeting time, meeting point or pick up location during the booking process.
Contact our team through our live chat support or by email at support@eoasia.com and we will assist you to adapt the activity according to your needs.
Amenities
Meal included
Water included
Restroom available
Kids friendly
Senior friendly
Special clothing
Bali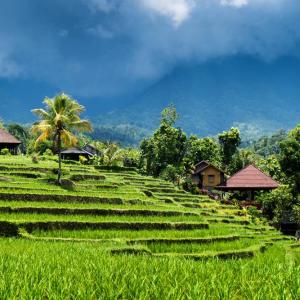 Bali has been recognized as the "World's Best Island" by most travel magazines and rightly so. Be it a couple seeking a perfect honeymoon destination, a solo traveler seeking a relaxing retreat to indulge in some soul searching or an adventure junkie looking for some beautiful underwater diving spots, Bali has something for everyone - mountains, beaches, religious sites, endless green fields, volcanoes, world class restaurants and more! Ubud's art and culture is second to none and the easy pace of life would make you want to slow down and smell the proverbial flowers. Accommodation is aplenty both for back-packers on a budget as well as for luxury travelers who are looking to indulge.
One of the best beach destinations in the world
Famous for water sports and scuba diving
Must try the Balinese massage
Art and cultural kernel
Sunrise at Mount Batur
Foodie haven
Affordable and convenient local transport