Best Price Guaranteed
We compare prices across 30 sites to get you the best deals.
Overview
Half day course to learn the basics of rock climbing at Railay beach
Discover or practice rock climbing in one the world's best climbing spot
Bring some Fun and Challenge to your Holiday !
Description
Schedule: 09:00 AM to 05:00PM

Transportation to the rock climbing location:
- Our climbing courses are operated in Railay beach. Kindly notice that transfer costs from other locations than Railay are not included in the price.
- If you stay in Ao Nang, you need to take a taxi boat to Railay (100 Baths per person per transfer).
- If you stay in Krabi Town or Klong Muang beach you need to first take a taxi (500 baths per person per transfer) then a taxi boat from Ao Nang (100 baths per person per transfer).

About Safety:
- Please notice that bad weather could make us cancel or move the program to another day.
- All our climbing equipments are professional and verified material that we check regularly.
- We provide you with a valid insurance
- All our instructors are hand picked by us, fluent in English, sober and safe.

Rock climbing is an exhilarating, challenging, healthy and fun activity unlike any other, and an alternative activity to make your holiday more valuable. When approached in the correct way, it is also nowhere near as dangerous as many people think. One of the great pleasures of the sport is that Rock Climbing cannot always be rigidly structured; every rock face and every climber is different and you learn something new every time you put your feet on the rock. Railay is one of the world?s best places to climb; you have to come here and experience the sport with our experience and professionalism in order to make your holiday truly special.
Amenities
Water included
Restroom available
Senior friendly
Kids friendly
Insurance included
Certified
Railay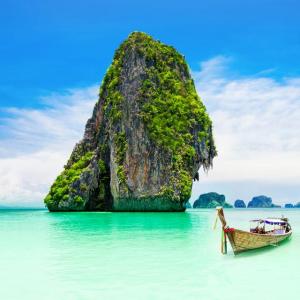 A unique getaway and peninsula with lime-stones shadowing the beautiful beaches, Railay promises to be a perfect weekend getaway for people who want to unwind. From rock-climbing and diving to beaches and relaxing atmosphere, Railay is known to be more of an intellectual getaway rather than being the party hotspot. To get to Railay, one has to take a 10 minute boat ride from Ao Nang or a 30 minute boat ride from Krabi. Getting around can be little hard as the walkways are bumpy and uneven. So tourists either take boats or hike. Mid-range accommodation can be found everywhere in the peninsula.
Situated along the east coast of Thailand
Well known for its Limestone cliffs
Good for rock-climbing
Popular for adventure and water sports
Often considered by visitors as a "Secluded Paradise"
Boat ride away from Ao Nang and Krabi