Best Price Guaranteed
We compare prices across 30 sites to get you the best deals.
Overview
Experience heavenly views and incredible tree top fun!
Wood walk, vertical challenge, super zip lines, air bike, log challenge, sky surf, cat walk & more!
From one platform to another..From tree to tree, balance yourself through an assortment of games such as rope bridges, sky surfing, flying, skateboards, and giant zip lines.
Description
What is an Adventure Course / Ropes Course?

Thailand?s tropical rainforests provide a unique setting for adventure activities while enjoying pristine natural environments. In particular, soft adventure such as adventure courses, ropes courses, zip lines, canopy walks, and other activities using trees (and other high elements in nature such as cliffs) as the primary platform are becoming major attractions for eco tourism.

Such activities may take on different names but share a common concept in which a collection/circuit of platforms (that are made of wood, ropes, and wires) are installed on high elements. From one platform to another and from tree to tree, participants balance themselves through an assortment of games such as rope bridges, tarzan swings, flying skateboards, and giant zip lines.

Our parks are officially inspected and certified by France's authorised certification bodies (SEREC).

Our Pattaya location is very special and unique for its proximity to Pattaya city?s urban amenities. Located in Horseshoe Point Resort and Country Club just 20 minutes by car, you will discover a forest that you never thought would exist so close to downtown Pattaya.

Enjoy cool challenges such as zip lines over water and Thailand?s first and only night trip adventure park! Great facilities for team building await you for company outings and meetings.

* Minimum height for participants is 140 cm., children less than 12 years old must be accompanied by an adult and should have an appropriate physical & mental development.
* wear comfortable outdoor clothing such as a T-shirt and shorts, Flat-sole sneakers for walking oncable. No sandals allowed.
Amenities
Restroom available
Certified
Kids friendly
Special equipment
Meal included
Special clothing
Pattaya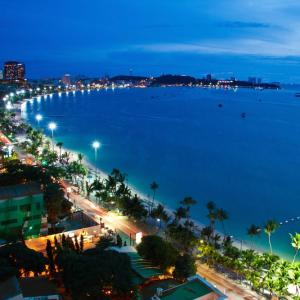 Pattaya offers its patrons a gamut of experiences. High octane nightlife, buzzing pubs, dance bars and risque entertainment attracts the party animals from around the world for a memorable weekend. The major contributing factor for Pattaya's income is its sex tourism and it isn't shy about it. With decent beaches, water sports, crowded markets, great restaurants and shopping malls, it invites families and holidaymakers too. The seafood in Pattaya is something to look forward to. Pattaya International Airport is known to serve as the primary airport and is well connected internationally, so getting in isn't an issue. Local transport is in abundance and convenient. There is budget accommodation and luxury accommodation as well.
Situated on the east coast
High octane nightlife
Dance bars and beach parties
Water sports
Foodie haven
Risque entertainment
Shopping paradise