Best Price Guaranteed
We compare prices across 30 sites to get you the best deals.
Overview
Enjoy a 2-hour Quad ride through the beautiful Thai Countryside.
Get to discover beautiful landscapes and amazing views accompanied by a professional team.
No previous experience is needed, so feel free to join without fear.
Description
Your trip will start at your hotel where your driver will come to pick you up.

This 2-hour Quad trip is suitable for everyone with no previous driving experience! If it is your first time riding an Quad? No problem!
It is a safe, fun and action packed adventure. You will visit Pineapple, Tapioca, and other tropical plantations whilst riding through beautiful farmlands and different terrain in a truly scenic location with amazing views!
You will ride through dirt roads, streams, desert-like sandy roads and jungle trails. Your guide will take you to high, hillside tracks with stunning views of the surrounding area. You will see wild cattle, fabulous pineapple, coconut, banana, jackfruit and rubber plantations!
Don?t worry if you?re a beginner! We will explain how to drive and operate the Quad, and you will have 5 minutes on the practice track before you head off onto the trails.
The Quads are incredibly easy to drive ? no gears to change and no clutches ? just stop and go.
Some breaks are planned along the tour for refreshments and photos. The aim of the tour is to have fun and to experience the beautiful Thai countryside.
It?s not an race! However, for those who want to challenge themselves, it is possible to vary the speeds and sometimes split up the group so everyone is happy!
In each group there will be a tour leader guide and a professional mechanic at the rear of the convoy.

*Please note that the price includes:
-Equipment rental
-Fuel
-Expert guides
-Minivan hotel transfers
-Soft drinks
-Fresh fruit
-Changing rooms
-Towels
-Showers
-Lockers

**Please note the following information:
-Maximum person per tour is 12 riders.
-For group booking please contact support@eoasia.com
-Children under 15 years old cannot ride the Quad
-Children under 5 cannot be passenger
-Price for Passenger & Children is 1500 THB/person
-It is also possible to record your entire adventure using the GoPro Hero 3 helmet camera;Take home the 16GB SD Card with its cinema-quality High Definition footage for only 1,000 THB
-Morning Tour pick-up is at 9:00 & drop-off at 12:15
-Afternoon Tour pick-up is at 14:00 & drop-off at 17:15

***We recommend you to bring along:
-Closed-toe
-Trainers are recommended (avoid wearing sandals or flip-flops!)
-Sunglasses
-Sunscreen
-A change of clothes
-Swim wear
Amenities
Senior friendly
Water included
Kids friendly
Special equipment
Special clothing
Reviews
5.0/5
Amazing - 5 stars on all!
Pattaya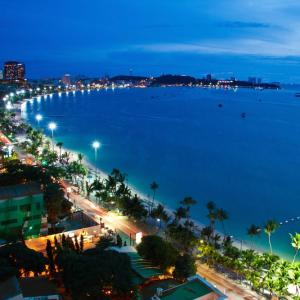 Pattaya offers its patrons a gamut of experiences. High octane nightlife, buzzing pubs, dance bars and risque entertainment attracts the party animals from around the world for a memorable weekend. The major contributing factor for Pattaya's income is its sex tourism and it isn't shy about it. With decent beaches, water sports, crowded markets, great restaurants and shopping malls, it invites families and holidaymakers too. The seafood in Pattaya is something to look forward to. Pattaya International Airport is known to serve as the primary airport and is well connected internationally, so getting in isn't an issue. Local transport is in abundance and convenient. There is budget accommodation and luxury accommodation as well.
Situated on the east coast
High octane nightlife
Dance bars and beach parties
Water sports
Foodie haven
Risque entertainment
Shopping paradise