Best Price Guaranteed
We compare prices across 30 sites to get you the best deals.
Overview
Experience heavenly views and incredible tree top fun!
Wood walk, vertical challenge, super zip lines, air bike, log challenge, sky surf, cat walk & more!
Come on and swing by on our ?Monkey Swing course? with 30 exciting stations - zip lines and games over treetops and across the lake.
Description
What is an Adventure Course / Ropes Course?

Thailand?s tropical rain-forests provide a unique setting for adventure activities while enjoying pristine natural environments. In particular, soft adventure such as adventure courses, ropes courses, zip lines, canopy walks, and other activities using trees (and other high elements in nature such as cliffs) as the primary platform are becoming major attractions for eco tourism.

Such activities may take on different names but share a common concept in which a collection/circuit of platforms (that are made of wood, ropes, and wires) are installed on high elements. From one platform to another and from tree to tree, participants balance themselves through an assortment of games such as rope bridges, tarzan swings, flying skateboards, and giant zip lines.

Located in Home Phutoey River Kwai Resort we bring you an adventure on trees with breathtaking views of the River Kwai and scenic backdrops of the mountains.

We offer you the new European system of continuous life line which secures you from beginning until the end of the course without the frequent unclipping of carabiners. It means a super safe safety system to let you spend more time to enjoy the adventure and less on the equipment! The continuous life line system ensures your safety at all times.

Come on and swing by on our ?Monkey Swing course? with 30 exciting stations - zip lines and games over treetops and across the lake. Ride a skybike over the canopy of the trees or swing from tree to tree like a monkey in the jungle. Take a break on our giant platform and lay down on our huge hammock to take in the cool breeze and shade. The highlight: A giant zip line stretching over the whole length of the lake. After you manage the last stretch our staff will offer you refreshments to cool down after this amazing adventure.

* Minimum height for participants is 140 cm., children less than 12 years old must be accompanied by an adult and should have an appropriate physical & mental development.
* wear comfortable outdoor clothing such as a T-shirt and shorts, Flat-sole sneakers for walking oncable. No sandals allowed.
Amenities
Water included
Certified
Senior friendly
Restroom available
Kids friendly
Meal included
Special clothing
Kanchanaburi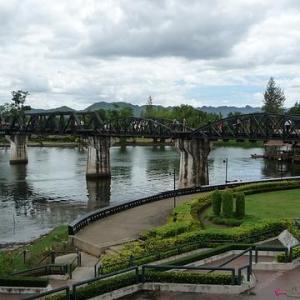 Kanchanaburi, known for the Bridge over the River Kwai, is the town to be in if you want to explore Thailand's wild west. Presently the town is bustling and alive but the many war museums and cemeteries take you back to the darker times. The historical museums and cemeteries depict the events of World War II. On the other hand, the lively national parks and roaring waterfalls can be explored by train or by rafting tours. For in-town attractions, one can rent a motor bike or bicycle. The streets of Kanchanaburi are a 10-minute walk away from the train station. Most accommodation is on or around the river and is available at various price ranges.
Site of Bridge over the River Kwai
War museums and cemeteries talking about World War II
Tiger Temple
Waterfalls and National Parks
Pleasant climate throughout the year