Overview
Water Woods is a wildlife resort 75km from Mysore and easily accessible from Bangalore.Nestled on the banks of the Kabini river and sandwiched between two of southern India's famous National Parks - Nagarhole and Bandipur. It is owned and run by a family who love nature and wildlife.Their biggest asset is their location, positioned right on the banks of the Kabini River and surrounded by water on three sides.

Water Woods is deeply committed to conservation of wildlife and forests. A stay here is remarkably different and they constantly redefine their own high benchmark when it comes to hospitality.
The Stay
Water woods is very private and exclusive where every guest gets the best possible personal attention.It is a testimony to what luxury living in the wilderness is all about.
It has 6 rooms - 5 Standard rooms, and 1 Suite Room. All rooms are air- conditioned.
Standard rooms
: The rooms are well-appointed with a King Size Double Bed, wardrobe space, a luxurious attached bathroom and provison for an extra bed.
Suite
: The Suite is a larger room with 2 King size beds, a private balcony and a dressing room attached to a luxurious bathroom. The suite is ideal for a family of 4-5 people.
.
Water Woods takes pleasure in providing you superior quality rooms, which offer excellent views of the river, gardens and the surrounding mountains and forests.
Dining
The Water Woods gives considerable attention to the quality of food in terms of hygiene, cleanliness, taste and freshness.The kitchen is headed by an Executive Chef of experience who is assisted by 2 Sous Chefs. They provide varied and imaginative meals.The menu caters to both vegetarian and non-vegetarian and is served in Buffet style.

Special attention can be paid to meals for children in terms of menu and preferential timing.
Any special food requests are welcomed prior to arrival to the resort.

Subject to weather conditions, the meals are served by the river-side, where you can indulge in the food, views and atmosphere.
Activities
ATV Ride:
Take a ride through the bio diverse tree plantation and along the river
Location Details
Nagarhole-Kabini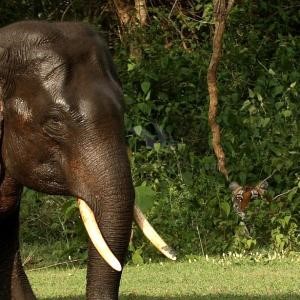 Spread across Coorg, Mysore and Wayanad districts, the forests of Nagarhole and Kabini are a part of Nilgiri Biosphere Reserve. These were the private hunting grounds for the erstwhile royalty of Mysore, British viceroys and Grand Dukes of Russia. A very rich diversity of flora and fauna, some endemic to this region, attracts wildlife enthusiasts from across the globe.

With green carpeted hills, trickling streams, cascading waterfalls and bottomless valleys, Nararhole and Kabini not only paint a pretty picture but are home to a number of species of birds and animals.

Witness the largest congregation of Asian elephants in the world
Time to visit: October to May
Trek through the forests of Nagarhole
Kabini was a popular hunting hotspot for British Viceroys and Indian royalty.