Overview
Leonia Resort is an innovative world-class resort, which offers a synergy of leisure, business, recreation and health care facilities. It is a luxurious estate that blends tradition and modernity in a unique, natural, restful and inspired setting with clear pools, floral garden and green landscaping.

Leonia is always happening and each day will be as unique as the property and the guest. There is something for everyone in the family, to experience the endless possibilities, awaiting guests at Leonia.

Everybody needs time to relax and take a break from the rigors of the modern world. Nobody understands this better than Leonia. Take a week-end break, an annual holiday, or just a day out there's everything to make the most of your hard-earned leisure time. One destination, something for everyone.. is no idle boast!


The Stay
Leonia's signature suite sprawls over a thousand square metres encompassing it own pools, private garden and massage rooms, separate dining and study rooms.
Suites


Lion's Den:
Leonia's signature suite sprawls over a thousand square metres encompassing it's own pools, private garden and massage room, separate dining and study area. Ensure you have everything at the touch of a button. Attached to the suite is a fully kitted out board for thirty for that all important meeting, with video conferencing, touch screen audio visual controls and the latest in communications.
Presidential Suite:
Luxurious and spacious and fitted with state of the facilities, this is a place to be. The furniture is stylish with ethnic carvings. The suite has a drawing room and a bedroom and is also attached to a conference hall which seats 30.
Ethnic Suite:
This suite has an ornately carved d
Location Details
Hyderabad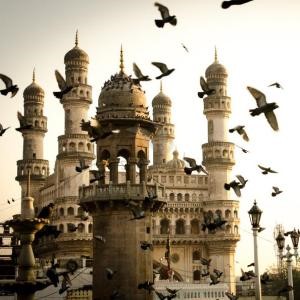 Fondly known as the "City of Pearls" and one of India's most populated metros, Hyderabad is one among the several other metros which put India on the map of world tourism. A living, breathing city located on the banks of the Deccan Plateau's Musi River, which is world famous for it's rich history, culture and of course, cuisine. One of those cities which you simply can't get enough of, Hyderabad keeps delivering consistently when it comes to tourism. Hyderabad and it's twin city Secunderabad, which has more of a modern outlook, have over the years combined and transformed into a super metropolis.
One of India's Princely states during British Rule
Home to the Nizam dynasty of India
One of India's most prominent national monuments Charminar is located here
Base of India's second largest film industry
Distinctive and internationally famous cuisine
Bustling and popular Bazaars
Well known Qutab Shahi Tombs and Mecca Majid
Well known Buddha Statue located right in the middle of the Hussain Sagar lake